MERCURY TIDE – Killing Saw
21. Jun. 2012 | von
agnes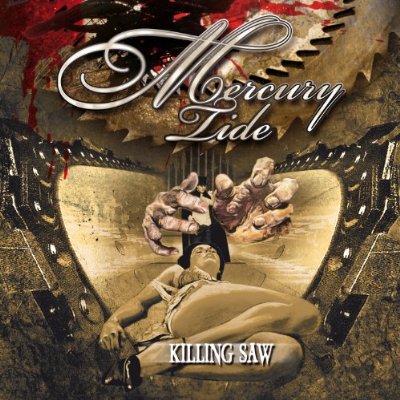 Band: MERCURY TIDE
Album:
"Killing Saw"
Genre:
Melodic Metal
Spielzeit:
48:51
Release Date:
25.05.2012
Label:
Limited Access Records / Intergroove
Web:
www.mercurytide.de
Bewertung:
8 / 10
1. In The Shame Of Trust
2. Killing Saw
3. Home
4. Searching
5. World Of Pain
6. Lord Of Memories
7. Out Of The Darkness
8. Alone In My Room
9. Satan Sister
10. You Cannot Save Me
11. No More Pain
12. Have No Fear
Unverhofft, aber gelungen!
Nach langer Abstinenz war Dirk Thurischs Musikprojekt MERCURY TIDE beinahe fast aus den Köpfen der Metalgemeinde verschwunden, doch nun meldet sich der ehemalige ANGEL DUST-Sänger mit "Killing Saw" lautstark zurück und lässt Fans erneut aufhorchen.
Anders als es der Titel erwarten lässt, hat Thurisch nicht etwa das Genre gewechselt und versucht sich auf "Killing Saw" roh und brutal, nein, der Sänger bleibt sich treu und stimmt auf der Comeback-Scheibe abermals melodisch-rockige Töne an. MERCURY TIDEs neuestes Werk präsentiert sich als gelungene Melodic Metal-Platte mit eingängigen Refrains und teilweise sehr emotionalen Melodien, denen vor allem Thurischs Stimme, sowie wiederkehrende Motive und einzelne Piano- und Akustik-Parts das gewisse Etwas verleihen. Während ihrer Schaffenspause haben die Essener absolut nichts verlernt und vor allem der einstige ANGEL DUST-Frontmann zeigt, dass er noch immer die alte Power und emotionale Tiefe in der Stimme hat. Insgesamt enthält "Killing Saw" zwölf starke Songs, die größtenteils mit dem oftmals so sehnlichst erwünschten Ohrwurmfaktor punkten können. So setzen sich Tracks wie "World Of Pain", "Lord Of Memories", "Satan Sister" oder die Hard Rock-Nummer "Home" als kleines, musikalisches Highlight mit Hitcharakter im Gehörgang fest.
Mit "Killing Saw" beweisen MERCURY TIDE eindrucksvoll, dass sie noch immer alle Eisen im Feuer haben und das Comeback von Mastermind Dirk Thurisch und seiner Truppe mit dieser Scheibe definitiv als gelungen abgenickt werden kann.