HARASAI – The I-Conception
13. Jun. 2012 | von
norma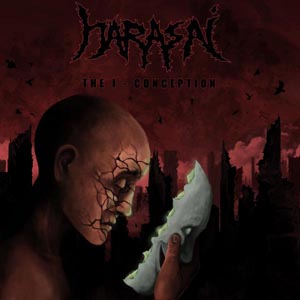 Band: HARASAI
Album:
"The I-Conception"
Genre:
Melodic Death Metal
Spielzeit:
43:32
Release Date:
2.7.2010
Label:
Firefield Records / Twilight
Web:
http://harasai.com/
Bewertung:
8 / 10
1. The Chosen Way
2. … Into Oblivion
3. A Constant Disbelief
4. Silent Murder
5. I - Conception
6. The Void Within
7. Hour of the Dead Eyes
8. Spearhead of Storms
9. Destructive Masquerade
10. This Endless Road
Sympathische Selbstdarstellung eines ziemlich melodischen Todes-Metals
Dass der Ruhrpott erstklassigen Thrash Metal hervorbringen kann, hat die Geschichte schon mehrfach bewiesen und so der internationalen Metal-Szene das ein oder andere bahnbrechende Album beschert. Wenden wir uns aber nun einem anderen Genre zu: Auch der Melodic Death Metal treibt im Ruhrpott seine wilden Blüten und anstatt nach Göteborg zu schauen, sollte man auch mal zwischen Kohle und Kraftwerk nach den Verfechtern dieses Genres suchen.
Ein Blick auf HARASAI und ihr Debüt-Album "The I-Conception" sollte dabei Pflicht sein, denn der Fan wird dabei voll auf seine Kosten kommen. HARASAI liefern mit ihrem Werk eben genau das ab, was man von einem guten Melodic Death-Album erwartet: eine gewisse Energie und Power, alles das, was man von IN FLAMES und Konsorten gewöhnt ist und mag, genau das findet sich auf dem Debüt der Essener Combo. Zudem steuert Sänger Martin mit seiner Stimme den nötigen Pfeffer bei und liefert damit sogar den altbekannten Punkt auf dem "i". Das passende musikalische Arrangement wird selbstredend beigesteuert durch seine Mitmusiker. Die Qualität des Albums ist hoch: es ist stark und authentisch, dazu aber auch ein Stück weit eigensinnig und ein wenig rotzig. Die Gitarristen Yannick Becker und Henrick Tschierschky spielen mid-tempo und schneller und erinnern nicht wenig an die Riffs von INSOMNIUM und IN FLAMES. Der Drumhocker ist mit Nickolas Becker erstklassig besetzt, er wechselt das Tempo, wann immer es erforderlich ist und der Fan es sich erhoffen würde.
Charakteristisch für den Melodic Death von HARASAI und insgesamt musikalisch ausgefeilt fallen hier "The Chosen Way…" und "The Void Within" ins Ohr, die mit einigen trashigen Anklängen eine gelungene Ausarbeitung bereits vertrauter Muster darstellen. Eindeutig Gänsehautcharakter hat der achtminütige Song "This Endless Road", der wohl das Highlight von "The I-Conception" darstellt. Auch die anderen Songs brauchen ihr Licht keinesfalls unter den Scheffel stellen, hier liefert jeder Track seine ganz eigenen stimmungsträchtigen Merkmale mit, wodurch das Album sich insgesamt keine Minute gleichförmig oder gar langweilig präsentiert.
Es werden dynamische Power-Riffs, verschnörkeltes und abwechslungsreiches Drumming und langsame Melodie-Parts gelungen kombiniert und mit harschen Growls oder cleanen Gesangsparts perfekt abgerundet. Die Hinzunahme von klaren Vocals von Gast-Sänger Björn Gossens (THE VERY END, NIGHT IN GALES) im Song "A Constant Disbelief", weiß zu gefallen und beschert dem Song mit Hit-Charakter noch eine zusätzliche, gelungene Facette.
HARASAI haben eine Vorliebe für überlange Songs, die von verspielten Gitarren geprägt werden und dank feinfühliger Komposition nie langweilig werden. Schwermütige und leicht melancholische Riffs gibt es in Hülle und Fülle zu hören, doch sorgen geschickt plazierte Breaks, wohldurchdachte Tempowechsel und die trotz aller Melodie reichlich vorhandene Aggression für Abwechslungsreichtum und Spannung. Also aufgepasst ihr Schweden, "The I-Conception" wird auch zu euch in den hohen Norden wehen!