BLACK MESSIAH | Black/Pagan Metal | Gelsenkirchen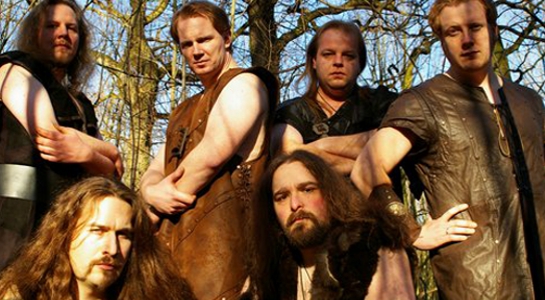 array(1) { ["display_type"]=> array(1) { [0]=> string(20) "Invalid display type" } } Invalid Displayed Gallery
Bei BLACK MESSIAH stehen die Zeichen von Anfang an auf künstlerische Düsternis.
Was im Jahre 1992 als Black Metal-Projekt beginnt, wird zunehmend durch die Vorliebe für Folklore beeinflusst. Wo im Sound einst Bathory und Celtic Frost die erste Geige spielten, lässt alsbald Odin seine Aura einfließen.
Dafür verantwortlich zeigt sich Sänger Zagan, der eine klassische Musikausbildung besitzt und der nach dem Ausstieg von Fronleichnam und Reverend Heidenbluth  das musikalische Ruder in die Hand nimmt. Man schreibt das Jahr 1996 und der Pagan Metal steckt noch in den Kinderschuhen. Mit dem Schlagzeuger Nabahm, sowie zahlreichen Gastmusikern nimmt Zagan 1998 das erste Album "Sceptre Of Black Knowledge" auf. Doch wie so oft, Musiker und Labels sind nicht die Einfachsten, kommt es 1999 zum Eklat. Zagan kündigt und zieht sich mit einem Haufen liegengebliebener Kreativität im Sommer 2000 ins Studio zurück und nimmt ein Demo auf. Diese Songs sind dann später auf der Scheibe "Oath Of A Warrior" zu hören. Im Jahr 2001 trennen sich Zagan und Nabahm, man ist sich uneins über den Weg den BLACK MESSIAH künftig gehen wollen. Schließlich fällt die Entscheidung, die großen Hallen Europas heimzusuchen und so hat die Combo im August 2002 wieder festen Boden unter den Füßen und die Absicht die Fans live zu beschallen. 2005 fällt dann der Startschuss: der Silberling "Oath Of A Warrior" wird veröffentlicht und man spielt auf mehreren Konzerten und Festivals. Danach kommt es zur Trennung von Bassisten Drahco, der durch Niörd ersetzt wird. Außerdem veröffentlichen die Jungs 2006 das Album "Of Myths And Legends" und Niörd muss "die Band berufsbedingt verlassen". Auf der Besetzungsebene tut sich dann abermals was: Surthur muss die Band krankheitsbedingt verlassen, ebenso steigt Keyboarder Hrym aus. Schnell findet BLACK MESSIAH eine neue Besetzung mit Agnar am Keyboard und Brööh am Schlagzeug. In dieser Kombination und im Jahre 2007 werden das SUMMER BREEZE und das RAGNARÖK-FESTIVAL erstklassig gerockt. Fleißig arbeiten sie zudem an neuem Material, im März 2009 erscheint das vierte Album "First War Of The World". Auf dieser Scheibe setzt die Band die auf  "Of Myths And Legends" angekündigten Veränderungen im Stil fort. Im November 2009 verlässt Zoran die Combo und wird durch den Gitarristen Frangus ersetzt. Im April 2012 verlässt wiederum Gitarrist Meldric BLACK MESSIAH aus persönlichen Gründen.
Diskographie:
Southside Golgotha (1995)
Sceptre Of Black Knowledge (1998)
Oath Of A Warrior (2005)
Of Myths And Legends (2006)
First War Of The World (2009)
The Final Journey (2012)
Zagan(Gesang, Violine, Akustik-Gitarre)
Frangus(Gitarre)
Meldric(Gitarre)
Brööh(Drums)
Garm(Bass)
Agnar(Keyboard)