RANDALICA | Heavy Metal | Dortmund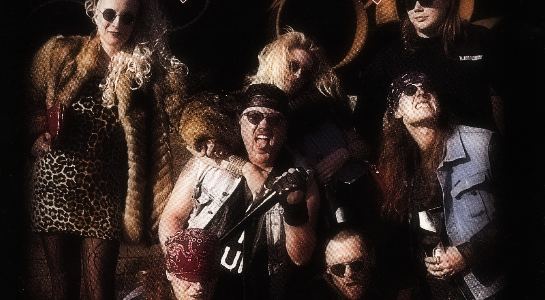 array(1) { ["display_type"]=> array(1) { [0]=> string(20) "Invalid display type" } } Invalid Displayed Gallery
RANDALICA ist die Scherztruppe der Dortmunder Rock-Hard-Belegschaft. 1993 als fiktive Band um Bandboss "Sir Pommes" (RH-Chefredakteuer Götz Kühnemund) aus der Taufe gehoben, sah sich die Truppe plötzlich mit großer Nachfrage nach handfester musikalischer Kost konfrontiert. "Tote auffe Tanzfläche" sollte die erste Single werden, die 1994 von Sir Pommes, Ömmes (RH-Herausgeber Holger Stratmann), Otze (Thomas "Zompf" Kupfer), Asi (Chefgrafiker Frittz Loch) und Gunther (Meat-Loaf-Stuntdouble Frank Albrecht) aufgenommen wurde. Musikalisch unterstützt wurden sie von Fleisch am Bass und Doppelbob (Bobby Schottkowski) an der Schießbude.
Der Singleauskopplung folgte das einzige Album "Knast, Tod oder Rock 'n' Roll" mit dem JUDAS PRIEST-Cover "Breaking The Law" ("Tore Machen") und "Cum On Feel The Noize" ("Komm Schon, Fühl' Den Lärm") von SLADE. Zum SODOM-Tribute "Homage to the Gods" steuerte die Spaßcombo eine deutsche Version von "Outbreak Of Evil" ("Ausbruch Des Bösen") bei, auf "Kein Blick zurück" von IN EXTREMO covern die Mannen "Nur Ihr Allein" mit alternativem Text.
Das letzte Mal live konnte die Truppe auf dem Rock Hard Festival 2006 bewundert werden, als sie nach SODOM die Bühne enterten (mit Bobby und Bernemann). Gerüchte, die Band hätte noch nie nüchtern auf der Bühne gestanden, sind selbstredend frei erfunden und entsprechen niemals nicht der Wahrheit.
Diskografie
Tote auffe Tanzfläche (Single, 1994)
Knast, Tod oder Rock 'n' Roll (1995)
"Sir Pommes" Götz Kühnemund (Gesang)
"Otze" Thomas Kupfer (Gitarre)
"Ömmes" Holger Stratmann (Gitarre)
"Asi" Frittz Loch (Bass)
Fleisch (Bass)
"Gunther" Frank Albrecht (Gitarre)
"Doppelbob" Bobby Schottkowski (Drums)